This innovative product, for the first time entirely produced in Italy, allows us to take advantage of the power of the MADE IN ITALY together with the hardness, resistence, and quality of the stoneware material. An infinity of new possibilities thanks to the wide range of colors.
Infact it is available in 13 natural colors for the year 2013.
The material is
entirely produced in Italy

, patented in exclusively by Ceramisia under strict quality controls.
The production in Italian Stoneware is ideal for the home use and the hotel chains sector. In fact the product has undergone a large amount of control tests that have proven his essential qualities: the hardness and resistance of it even to strong shocks caused by frequent washings and regular use in microwave and oven.
All the products made with this innovative material will have the
Italian Stoneware

brand, the Made in Italy mark and will be a guarantee of quality and durability.
The Italian Stoneware has been tested for both hand painting use and decals decoration of any size or type.
The size of the pieces that can be produced can reach any dimension, without any kind of problem, even sizes that until now were impossible to realize by Porcelain or bone-china, like oval platters of cm 47x50. This new possibility is due to the glazing phase following the first firing. In this phase, the absence of "Greificazione" (crystallization) allows a corrective and steady firing.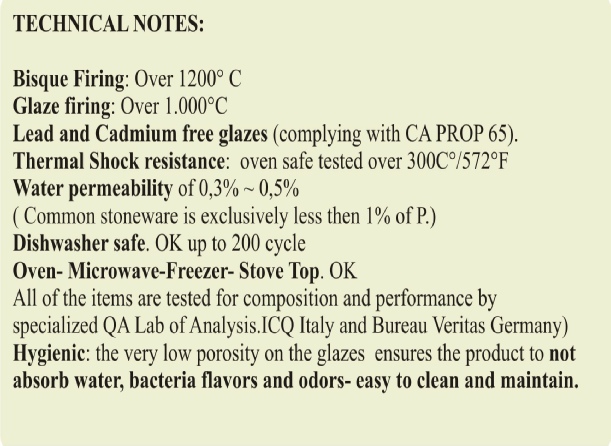 OVEN PRODUCT


All items in the Italian Stoneware range are original designs .
The Italian Stoneware Product is safe for use in the microwave, freezer, refrigerator, dishwasher, oven. The maximum oven-safe internal temperature is 300°C/572°F at a temperature of work of the oven equipment of 300°C/ 572°F.
The enameled and decorated surface is easy to clean and scratch-resistant. The surface is completely hygienic and will not absorb odors or flavors. The Italian Stoneware is extremely strong and durable, and resists staining, chipping and cracking. The handles, knobs and rims have been designed for a secure, easy-to-hold grip ( in the Baker Product).






THIN LINE
The structure of the material allows also the realisation of thin line, impossible to be made of material other than Porcelain.
Infact the consistency and the solidity of the chemical composition of the Italian Stoneware assure a perfect result also of very thin and fine thickness.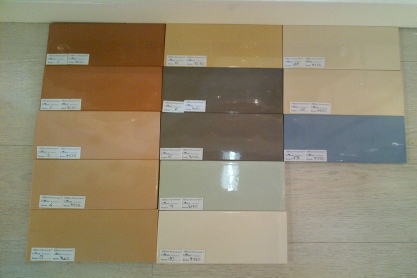 CERAMISIA BRAND FACTORY
Under Italian Stoneware Ltd
Street Carl Marx 6 zip 06012
Città di Castello (PG) ITALY
Tel. +39 075 8510752 (a.r)
Mail : Info@ceramisia.it
Follow us!
Italian Stoneware Group International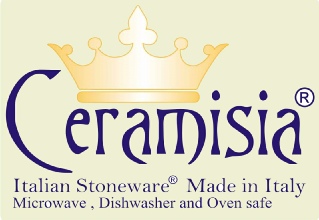 ITALIAN STONEWARE ITALY
Street Carl Marx 8 zip 06012
Città di Castello (PG) ITALY
Info@ceramisia.it
Mail: info@italianstoneware.it