Italian Stoneware PRECAUTIONS


DO NOT use
any Stoneware piece on the stovetop or any other

direct heat source

.
OVEN: Maximum oven-safe temperature is 300°C / 572°F. Use oven mitts for lifting at all times.
BROILER
: When using under a broiler allow a gap of no less than 2 ½ inches between the rim of the dish and the heat source.
MICROWAVE
: The body may become hot during prolonged microwave use (more then 5 minutes) .Cover just the open top of the dish, leaving the handles exposed that stay cold .
FREEZER-TO-OVEN USE

: Do not place a frozen dish of food in a preheated oven. Place the frozen dish in a cold oven and set the temperature, allowing the dish and oven to heat together. Before serving always check that the center of the food is completely and uniformly hot.









CLEANING AND MAINTENANCE


CLEANING: Before the first use, wash the dish in hot, soapy water, and rinse and dry thoroughly. For most day-to-day cleaning, cool the dish for a few minutes before washing and drying, or wash in the dishwasher, allowing the full cycle to complete. Never leave a dish fully immersed in water. For removal of stubborn residues allow the dish to cool, fill with warm, soapy water and allow it to soak for 10 to 20 minutes. Wash in the usual way using a plastic brush or scouring pad if necessary.








For Any Question please request the Use Information in the "Contact Area" or by mail at our Customer Care :
Italian, English/American
please write to : lorenzo@ceramisia.it
or by telephone to +39 075 8510752
For arabic Language only
:
please write to : arab@ceramisia.it








CERAMISIA BRAND FACTORY
Under Italian Stoneware Ltd
Street Carl Marx 6 zip 06012
Città di Castello (PG) ITALY
Tel. +39 075 8510752 (a.r)
Mail : Info@ceramisia.it
Follow us!
Italian Stoneware Group International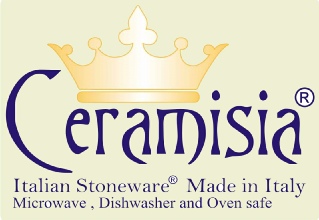 ITALIAN STONEWARE ITALY
Street Carl Marx 8 zip 06012
Città di Castello (PG) ITALY
Info@ceramisia.it
Mail: info@italianstoneware.it